Easy Last-Minute Halloween Costume DIY Ideas 2022
There is no doubt that Halloween is the most anticipated holiday of the year, and everyone is looking forward to it. Many people started planning their Halloween costume designs months ago to stand out in the crowd and impress everyone. However, if you cannot start your planning this year, there is no need to worry because there is still a lot that you can do. You can still accomplish a great Halloween costume, and it will be effortless for you at the last minute.
Easy Last-Minute Halloween Costume Ideas
You are going to make jaws drop in 2022 with these DIY Halloween costume ideas. This post will discuss some easy last-minute Halloween costume DIY ideas in 2022. So check some last-minute adult easy Halloween costumes below. If you didn't plan your Halloween costume for this year ahead of time, there is no need to worry because there is still time for you to be creative.
Let's look at some fantastic and easy Halloween costumes in 2022.
1. Cat Costume
It is the perfect Halloween costume idea for you if you are a cat lover, and it is time to pull off this classic look that will turn out simple and cute! You don't need a lot of materials if you want to create this look for this Halloween.
All you need are a pair of gloves, pants, shoes, and a black shirt. It is as easy as it sounds, and you can easily create DIY cute cat ears to create this look. If you don't want to make the cat Years by yourself, you can also purchase a cat headband that is very easy to find in the market, even at the last minute.
2. Queens of Hearts
If you love to play cards and are a play card enthusiast, we have just the last-minute Halloween costume on our list. It is an easy costume that you can create in a few minutes, and all you need to do is to make a caller that is full of cards. After that, you can wear any dress of your choice because the color of your dress does not matter.
However, you need to put a piece of paper around your neck so that it is your exact size. After that, it is super easy to glue or staple the playing cards around your neck on a piece of cardboard or paper. This is an effortless look that you can create easily, and you will not require many materials. You probably have cards already lying around somewhere in your home; now, all you need to put them to some productive use this year!
3. Ghost Costume
Who does not love the cute Snapchat ghost? We all do! If you have run out of ideas for your Halloween costume for this year or are just lazy, the Snapchat ghost costume will be the right option for you.
Even if you need to make a DIY ghost Costume for your child, it will make their day, and the day will love it. Don't be afraid to experiment if you try the ghost Costume for this Halloween. You can use white face paint and some black eyeshadow to make it extra scary!
4. Patriotic Costume
When you don't know what else to do, be patriotic. Wait, we don't mean it in a literal way. It is undoubtedly good to be loyal to your country, but if you are running out of Halloween costume ideas this year, this is the only option you have left.
Just get a red, white, and blue costume, and then you can wear it on Halloween with a patriot theme. Honestly, no one will question whether you are chosen because there is nothing wrong with being patriotic! Even if you visit the market or shop online at the last minute, you can get your hands on many cute patriotic outfits.
Whether in the form of a little dress or a long gown, there are so many ways you can style it on Halloween in 2022. Makeup is an additional thing you can invest in and will elevate your look even more on Halloween. Some red and blue eyeshadow will do wonders for you to complete this look and save you from embarrassment on Halloween day.
5. Firefly Jar
If you were too busy this year and did not have enough time to think of any Halloween costume idea for your kid, then there is no need to worry. There are still many different things that you can do to make your kids stand out and also look cute at the same time while they are out there asking for candies in the neighborhood.
What you can do is turn your kid into a bright firefly jar! It is effortless, but it looks like someone has put much effort into this costume. All you need to do is to get a wearable jar for your kid and fill it with sparkling lights. After that, your kid will be like a firefly in the neighborhood!
6. Mini Mouse
This is the right last-minute Halloween costume if you are a kid is a Disney fan. There is nothing else that can beat this classic look because it is simple and sweet at the same time. It is a trendy and cute Halloween costume that every kid loves wearing.
The best part about this costume is that you don't need to get a lot of materials for this because all you need is a mini mouse headband, a red Polka Dot skirt, or even a pant will do. If you want to elevate the look even more, then you can go the extra mile and purchase some black flats to go with it! Overall it is a perfect look, and no one will be able even to think that it was brought together at the last minute for your kid.
7. Mona Lisa
Yeah. Mona Lisa had trouble smiling, but why should you face the same problem this Halloween? It is the best costume idea if you don't have any other Halloween costume plan for 2022. All you have to do is dress up like Mona Lisa, and you can use green foam to make the body and then use some hot glue to attach it to the Canvas. Make sure that there is no extra green form on the Canvas edges to look needed and clean.
After that, you can create openings so your kid can stick their face and hands through the Canvas. During s session, don't forget to tell your child to pose and smile exactly like Mona Lisa! It is a great costume idea for those children who are history and art lovers. They will love to flaunt this look in front of their friends and impress them with their historical knowledge!
8. Skeleton
A skeleton costume will never go out of style when it comes to Halloween's last-minute costume design ideas. You can bring back the excellent skeleton to save the day whenever you want, and it will turn out unique every time. All you need is a spaghetti strap and a red paper heart! That's all you need to create this look.
It is not only budget-friendly but also a classic costume that will never be out of trend. However, if you want to pull off this look, you must have some makeup skills to create skeleton makeup. If you have an extra white T-shirt in your wardrobe, you can cut it up and make a rib cage illusion for your spaghetti strap.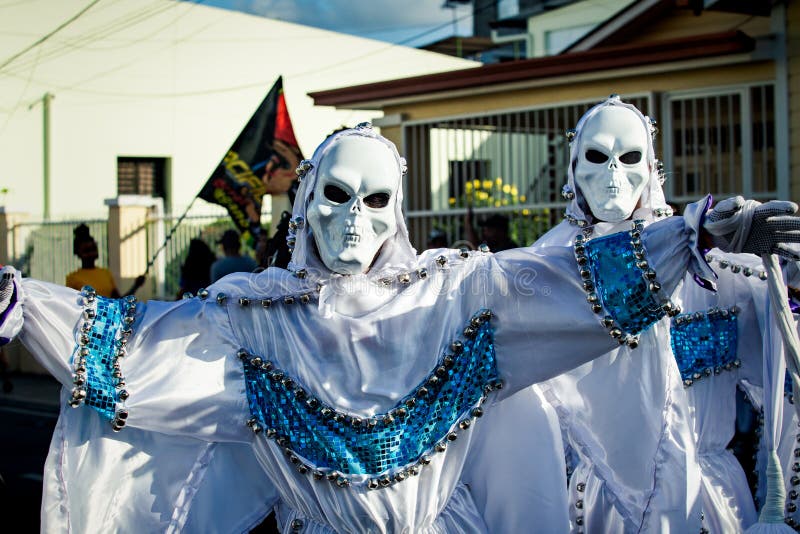 9. Thieves Costume
Do you have twins and need to dress both of them up for Halloween this year and don't know how you will do it? Say no more! Identical thieves are the best Halloween costume that twins can easily pull off this year, and it is also an excellent look for couples. No need to worry if you are single because you can do it with your best friend or partner in crime.
All you need are some black pants and Zebra shirts. It is up to you whether you want to wear a black face mask. Although, it is going to give you the authentic look of a thief. If you and your partner in crime are passionate about this look, you can even carry bandit handbags to make it look as accurate as possible.
10. Bathtub Costume
You can make your kid are walking a bathtub this Halloween. This idea is going to be a great idea in 2022. The best part is that you don't have to spend much money on this costume and can be as creative as you want. All you need are lots of white balloons and some cotton.
You can also include the shower cap and some rubber toys to make it look more realistic. Your child will be very excited to work out like a bathtub in the neighborhood.
If none of the options amazes, you then why not create something unique and amazing? You can easily make Mandalorian Armor in just six steps.
Final Verdict
Halloween is just around the corner, and you don't have much time left to plan for your Halloween costume this year. So if you are looking for a Halloween costume idea for yourself or your child, you can look at the last-minute Halloween costume ideas 2022 we discussed. You will be able to find something that you can pull off this year for sure! Happy Halloween!